How a Women and Minority-Owned Business Can Transform the CPG Industry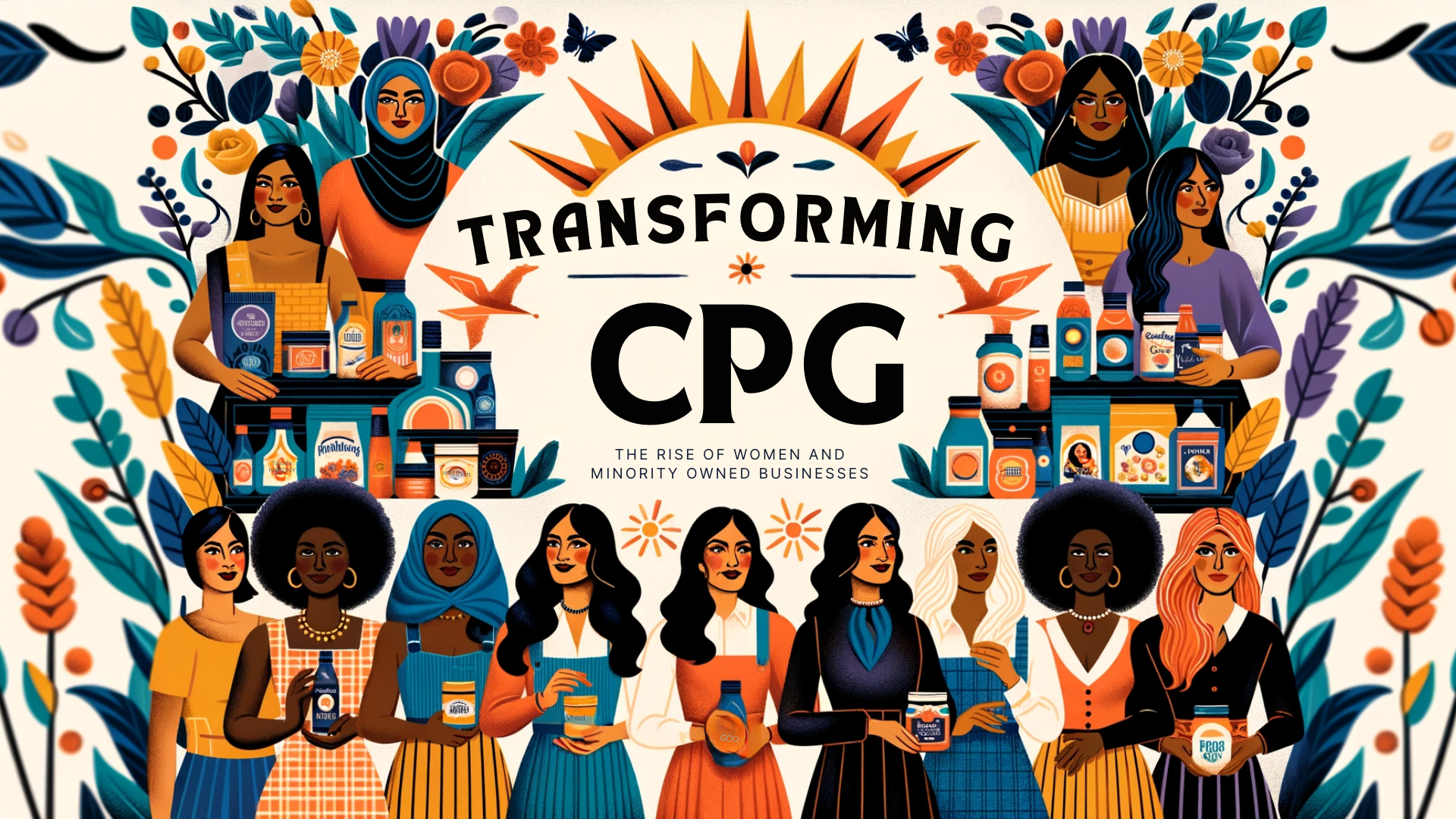 The Consumer Packaged Goods (CPG) industry is undergoing a major transformation. As consumer demographics shift and demand for diversity grows, there is tremendous potential for women and minority-owned businesses to disrupt the status quo. By embracing inclusivity and bringing fresh perspectives, these entrepreneurs can reshape an industry historically lacking diversity.
This article examines the rise of diverse-owned CPG businesses, their challenges, their impact on the industry, and how financial solutions can aid their growth. Ultimately, supporting women and minority entrepreneurs is key to realizing the full innovative potential of the CPG space.
The Rise of Women and Minority-Owned Businesses in CPG
Consumer goods have traditionally been marketed by and tailored for the majority white demographic. However, as diverse consumers gain greater purchasing power, there is mounting demand for brands that reflect a broader range of perspectives and backgrounds. This presents a major opportunity for women and minority entrepreneurs to fill unmet needs and capture underserved audiences.
By launching brands that embrace inclusivity, diverse business owners bring fresh energy and innovation to the CPG industry. These purpose-driven missions enable such companies to build authentic connections with consumers. Diverse-owned businesses also often adapt products to suit cultural preferences and tap into niche target markets overlooked by mainstream brands. Their unique vantage point allows them to identify gaps in the market, resulting in new and differentiated offerings.
The rise of successful woman-owned minority business ventures signals that the industry's future rests on reflecting the diversity of the consumer landscape. Their growth and influence will compel more significant changes around inclusion and representation.
Challenges and Triumphs on the Road to Retail
Breaking into retail as an unknown brand poses difficulties for any new CPG company, but diverse-owned businesses face additional systemic hurdles. Establishing connections with retail buyers can be challenging without existing networks in the industry.
Access to capital and cash flow represents another major barrier. According to the Minority Business Development Agency, a minority business owner is found to pay higher interest rates on loans and is more likely to be denied credit. Raising funds from venture capitalists who lack experience with diverse founders presents further difficulties.
Q4 2022 NVCA Venture Monitor, Pitchbook
Despite these obstacles, many minority and women entrepreneurs have achieved remarkable success through determination, strategic partnerships, and relentlessness. For example, Vanessa Dawson's Arber sprouted from the need for sustainable gardening and exemplifies the innovative potential of women and minority-owned businesses in the CPG industry (and, shameless plug: was financed by Lunr Capital).
Launching on Earth Day 2021, Dawson's venture taps into the green movement, offering eco-conscious consumers a product line free from harmful chemicals. By leveraging her expertise and connections, Dawson has nurtured Arber into a thriving brand with a solid presence in major retail outlets like Walmart. Arber's success underlines the industry's shift towards environmentally responsible products and highlights the growing influence of minority women entrepreneurs in shaping a more sustainable future.
Vanessa Dawson - CEO and Founder of Arber, Forbes
Jasmin Foster, founder of Be Rooted, is another great example. Be Rooted redefines the stationery industry with a focus on inclusivity, establishing itself as a beacon for women of color seeking representation. Foster's journey from retail beginnings to launching a successful Kickstarter (raising $20,000 in just 30 days!) demonstrates the unique power of a female and minority-owned business to connect with underserved communities.
Be Rooted's ascent to the shelves of Target not only celebrates diversity but also sets a precedent for the CPG market, proving that inclusion is integral to the industry's evolution. Foster's story is a testament to the transformative impact that women and minority entrepreneurs have when they bring their authentic visions to the marketplace.
Jasmin Foster - CEO and Founder of Be Rooted, BeRooted
Stories like this demonstrate how diverse businesses must often bootstrap their way to retail shelves. But by leveraging their skill and direct consumer insights, they can gain a competitive edge. Their triumph over challenges makes their growth all the more impressive.
The Impact of Inclusivity on Business Success
Diversity and inclusion are not just social imperatives - they also make business sense. Companies that reflect the demographics of their consumer base are better equipped to understand and meet their needs. They also benefit from fresh perspectives and new ideas that homogeneous teams lack.
Lin Jiang's Yishi Foods stands as a testament to the power of inclusivity in the CPG industry. Her journey from a finance and consulting background to creating a wellness-focused food brand exemplifies how diverse perspectives can innovate traditional markets. As an Asian female founder, Jiang brought her unique understanding of nutritional needs and cultural flavors to the American breakfast scene. Her reimagined oatmeal, infused with flavors from her childhood in China, not only filled a gap in the functional food market but also resonated with consumers seeking more diverse and health-conscious options.
Lin Jiang - CEO and Founder of Yishi Foods, Yishi
Jiang's success with Yishi Foods, marked by its expansion into over 100 retail locations including Whole Foods and 99 Ranch Market, illustrates the business potential of inclusivity. Her ability to blend traditional Eastern wisdom with Western consumer preferences showcases the untapped opportunities to leverage cultural diversity for product development. As we can learn from Jiang's story, embracing different cultural heritages in CPG products can redefine industry norms and lead to remarkable business achievements, setting new standards for diversity and innovation in the industry.
The rewards of inclusivity apply across CPG categories. As consumers increasingly factor diversity and social responsibility into purchasing decisions, they seek brands that reflect their values. Supporting minority woman owned businesses also yields economic benefits by nurturing innovation and entrepreneurship.
Ultimately, diversity spurs growth. The brands leading CPG's transformation will be those that embrace inclusivity as both a cultural and business imperative.
Financial Solutions for Emerging Brands
Capitalizing on retail growth opportunities poses a persistent challenge for upstart CPG companies. Inventory financing solutions address this need by monetizing future revenue to free up capital for expansion goals.
For emerging brands eyeing omnichannel distribution, inventory financing is particularly advantageous. It provides the working capital needed to produce at a larger scale and fulfill orders with multiple major retailers simultaneously. Rather than limiting distribution to match available cash flow, financing enables brands to ramp up operations to meet full vendor requirements out of the gate.
Retailers increasingly expect CPG brands to span brick-and-mortar, online, and wholesale channels. With the right financing partner, small businesses can secure the funding to successfully navigate this transition and drive profitability through expanded consumer reach.
Realizing the Potential of Women and Minority-Owned Businesses
Women and minority entrepreneurs are poised to be the disruptive force that propels CPG toward a more diverse and vibrant future. However, realizing the transformational potential of these businesses will require industry leaders to invest in inclusivity beyond superficial marketing efforts. Providing access to financial solutions, retail opportunities, and mentorship for minority-owned companies should be part of any comprehensive growth strategy.
The success of these entrepreneurs will ultimately lift the entire industry by enhancing innovation, reflecting the full diversity of the market, and meeting the demands of previously overlooked consumer segments. With the support of forward-looking partners like Lunr Capital, women and minority-owned businesses have an unprecedented opportunity to unlock the industry's full potential – notably, over 50% of our portfolio brands are women or BIPOC-founded. Lunr's modern financing solutions can provide the capital needed for women and minority founders to scale their operations and reach their growth goals.